Food that we eat every day contain a lot of chemical ingredients, which are not good for our body. Artificial dyes, fragrances, food preservatives, contaminated soil, which contaminates vegetables. Fruits are sprayed with antifungal substances, and those are just a few dangers from the foods side. Therefore, it's good to at least partially cleanse our body from the toxins and choose this diet. This way, you can help your digestive system, get rid of fatigue and get your healthy sleep back, get more energy to act every day.
There are a lot of types of cleansing diets in the guides. One of them is radical, because you can only eat fruits and drink water. Others recommend fruits and vegetables, as well as a lot of water. We have a few cleansing diets to choose from.  It can be one day starvation, which means that we only eat fruits and drink natural juices, without sugar or preservatives. Or it can be a ten-day diet, during which the first two days you only eat certain fruits and drink juices from them.
During the day, one fruits for a whole day in any quantity. You can change the fruit for another during the second part of the day. On the third day, up to the eighth, we add steamed vegetables and sunflower seeds, almonds or pumpkin seeds, and choose one fruit for a whole day, without quantity limits. On the ninth and tenth day, we add yoghurt with muesli, poultry meat or fish with a portion of vegetables. Add fruit or vegetable juice to that. A cleansing diet is technically starvation, but we don't have to worry that it's going to be bad for us, quite the opposite. When we get rid of a lot of toxins, our body will have more energy to act. After such a diet, it's important to remember that while going back to normal eating habits, all products need to be introduced gradually. Especially fatty foods and red meat. Cleansing diets also help lose weight.
Therefore, it's important not to use them for a longer period, as it can cause complications. Cleansing diets longer than ten days should be done with consultations of a specialist, as unreasonable weight loss can cause a lot of life-threatening diseases. There are also very extreme diets. There is a lemon diet. On the first day, we eat two lemons, on the second three, on the third four, on the fourth, fifth, sixth and seventh five. On the eighth four, on the ninth three and on the tenth two lemons. Protectively you can drink flaxseed or rinse mouth with oil. It's very important during cleansing diets to replenish the vitamins, especially vitamin C and E, and take a shower, brush teeth and rinse mouth more often, as the toxins we're getting rid of might cause bad odour. For the diet to bring desirable results, alcohol, coffee and cigarettes should be left off.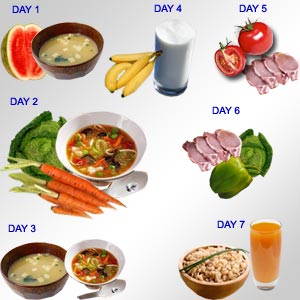 Day 1 and 2
Two days with just fruits, for breakfast drink a citrus juice (lemon with water, orange etc). for the rest of the day, choose one fruit (grapes, watermelon or apples) and eat that for the rest of the day in any quantity. The fruit can be swapped in the second half of the day.
Day 3-8
Add vegetables to the diet. For breakfast eat a portion of chosen fruits, for lunch a portion of veggie salad with sunflower, pumpkin (or other) seeds and almonds. For dinner is a set of cooked or steamed vegetables. You can eat your chosen fruit between the meals.
Day 9 and 10
For breakfast drink a freshly squeezed fruit juice. Brunch – yoghurt with muesli. For lunch, eat a salad portion. Dinner is a bit more specific – a portion of fish or chicken breast with vegetables, a freshly squeezed vegetable juice to drink.