People trying to lose weight should remember that it's not just important what they eat, but also what they drink. One of the beverages that are worth noting is an infusion of milk thistle. Milk thistle is a plant of the Asteraceae family, originating from Mediterranean region. In traditional medicine it is used for over 2000 years. Its special properties were described in the 40's by Dioscorides – Greek doctor and botanist. Milk thistle makes it easier to keep a slim figure and has a lot of substances that benefit the health.
Health Benefits
Milk thistle is a rich source of vitamins from group B, as well as vitamins D, E and K. It supplies a large amount of minerals, such as copper, selenium and zinc. Milk thistle oil contains unsaturated fatty acids, including linolenic acid. The plant is used to treat cholelithiasis and to prevent inflammation of the gallbladder and bile ducts. It sooths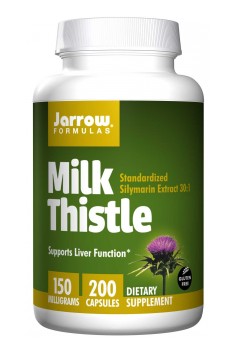 gastrointestinal symptoms, such as flatulence, heartburn or gastric hyperacidity. The milk thistle is also used to treat liver damage caused by toxic-metabolic substances. It ensures protection from poisonous substances, such as death cap's mycotoxin, alcohol and pesticides. It supports regeneration of the liver and it increases glutathione levels – a strong antioxidant preventing liver cell damage by free radicals. The effectiveness of the fight against toxic substances is the merit of silymarin included in milk thistle. At the same time, milk thistle reduces the concentration of bilirubin, which is responsible for yellowing of the eyeballs and skin, as well as regulates the parameters of AST, ALT and GGT, which affect the condition of liver, heart and muscles. Furthermore, it inhibits the action of leukotrienes. They are lipids related to the immune system, which favour the occurrence of inflammation. As a result, milk thistle limits the risk of chronic liver inflammation, as well as the one related to diabetes. Its beneficial effects can also be seen by people who suffer from migraines or motion sickness. It also helps women with regulation of menstruation.
Support during weight loss
The beneficial effect on the liver is one of the reason why milk thistle is recommended to those struggling with weight. The substances it contains affect the entire digestive system, accelerating calorie burn and reduction of fat tissue. What's very important, is that mineral ingredients contained in milk thistle have a positive impact on firmness of the skin, preventing one of the aesthetic problems that people who lost weight struggle with.
Milk thistle does not have side effects if it's consumed in the amount of 2-3 teaspoons per day. In case of ready supplements, it's best to follow the dosage specified by the manufacturer. Grounded grains or designed to be self-grounded can be brewed alone or added to the tea.